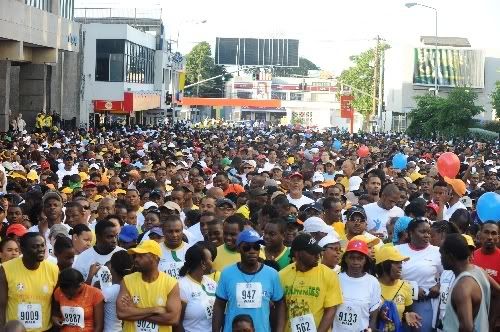 The PanCaribbean Sigma Corporate Run is a symbol of social responsibility and a healthy lifestyle and Sunday, February 20, will mark the 13th anniversary of the Caribbean's largest corporate run. Walkers, runners, and persons who use wheelchairs will make their way from Pan Caribbean Financial Services Limited Head Office on a 5K route ending at EmancipationPark.
The annual run not only facilitates healthy activity, but allows participants to give back to worthy causes. This year's beneficiary will be The Victoria Jubilee Hospital, Neo‐Natal Care Unit, the largestwomen's health care in the island.
Last year's run saw over 11, 000 participants from corporate teams, groups and individuals raising over $11,000,000 for Sir John Golding Rehabilitation Centre, the Jamaica Association for the Deaf and Jamaica Society for the Blind. This year they hope to raise $15,000,000.00.
The PanCaribbean Sigma Corporate Run also fosters camaraderie, as many of the participants come back each year to meet up with friends from previous years, as well as those friends in the
workplace.
The Jamdammers Running Club, a Jamaican based running club, plays a key role alongside thePanCaribbean team in executing this very successful event. The Jamdammers Running Club has been integral in organizing major road races, including the Reggae Marathon Half Marathon & 10K– listed in the Top 10 Marathons of the World.
Alfred "Frano" Francis of Race Director of Jamdammers Running Club says that participating in an event such as this will assist with"developing a healthy lifestyle through running." Mr. Francis says that running also "strengthens the body and muscles." He added that the possibilities of health issues such as heart disease and diabetes can be reduced and the body can be purified by the sweating benefits attributed to activities such as running or exercising.