The University of the West Indies (UWI), Mona Campus will host teams from across the institution's regional campuses at its upcoming biennial intercampus UWI Games 2013, from Tuesday, May 21- Thursday May 30 at the improved Mona Bowl facility. The event will see more than 150 athletes competing across
multiple sporting disciplines.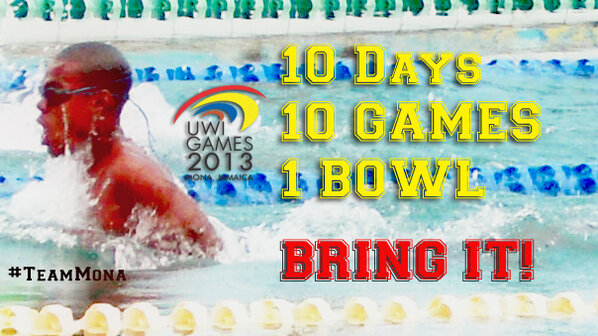 The UWI Mona Bowl in recent times has seen many major improvements, which now make it ideal for the hosting of the 2013 UWI Games. Components such as the UWI/Usain Bolt Track, Frank Worrell Cricket Grounds, UWI Bowl; Football Fields, Tennis Courts, Netball Courts, Swimming Pool, Indoor Gymnasium, and the Mona Hockey Turf, (off campus), will be utilized for the staging of the respective games. "UWI, Mona welcomes the many athletes competing for their schools at the 2013, UWI Games. Preparations are set in high gear for what will be one of the best UWI Games to ever be held in Jamaica," says Dalton Myers, Director of Sports at the Mona campus.
Originating in the 1960's, these intercampus games were initially managed by the attending students. The Guild of Undergraduates during that era, was solely responsible for the championships until 1975 when the Sports Departments of the various campuses assumed responsibility.
Defending Champions Cave Hill - Barbados will have to bring their 'A' game to hold firm against the home teams of the UWI, Mona campus, which has held the title consecutively for several years.
During the past decade the games have successfully been rotated biennially among the three main University campuses, Cave Hill - Barbados, St. Augustine – Trinidad and Mona – Jamaica, with the championships being last held in 2007.
This year the UWI Games welcomes the collective UWI Open Campus Team as contender for the victor's title. "For our Open Campus students who are separated by time and distance across the Caribbean, the opportunity to come together as a team helps immeasurably to build a sense of belonging and cohesion that may be taken for granted on the "brick and mortar" campuses." says

Mrs. Karen Ford-Warner, Registrar, UWI Open Campus.
M
ore
than 400 persons region-wide are expected to participate in the competition,
f
ostering healthy competition amongst Caribbean neighbours. UWI Games 2013 will be held at the UWI Mona Bowl from Tuesday May, 21 to Thursday May 30.