At the end of the thrilling 45th season of Television Jamaica's Schools' Challenge Quiz (SCQ), proud sponsors LASCO is pleased to have been a part of this Jamaican institution and congratulates Kingston College on their victory on Tuesday, April 1.
The eleven time champions Kingston College, hotly contested the finals against Campion College, who has three years of participation under their belt. The fast-paced, nail-biting finals came down to a tie, broken by a final question in the last few seconds which resulted in the final score of 27 to 25 in favour of Kingston College.
Principal of Kingston College, Dave Myrie consumed with pride from yet another victory said that, "I am immensely proud of the boys, they have truly exemplified the KC spirit 'the brave may fall, but never yield'. The team was focused, motivated and have worked very hard to the very end for this victory".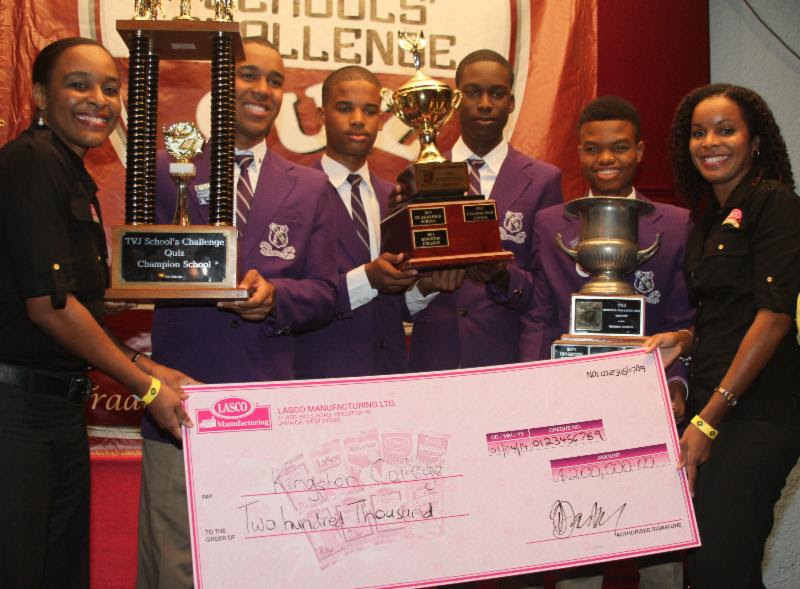 Kelia- Gaye Dunbar, LASCO Marketing Manager (left) and Sherianne Thompson, LASCO Brand Representative (right) congratulates the 45th TVJ's Schools' Challenge Quiz, 11 time champions Kingston College.
KC team members include: (L-R) Jayzon Brooks, Kareem Clarke, Kadeem Campbell and team captain, Scott Lee Young.
Kingston College was awarded with a cash prize of $200,000 from LASCO, while the beaten finalists Campion College received $120,000. Third place winner Titchfield High received $80,000 from LASCO at the prize-giving ceremony.
The sponsorship worth $500,000 in awarded prizes, includes cash prizes and a breakfast programmes worth $50,000 for Kingston College and St. Jago High School. The St. Catherine based school, had the highest scoring match from the county of Middlesex, 48 to 15 against Rusea's School in the first round of the competition. The breakfast programme will consist of a wide range of nutritious LASCO products including: LASCO Food Drink, LASCO Oats Porridge Mix, LASCO Cornflakes, LASCO Mackerel and LASCO Instant Chocolate.
Sherianne Thompson, LASCO Brand Representative, expressed that the breakfast feeding programme is another way the company gives back to education. "We at LASCO understand the importance of good nutrition to the development of youths and the significance of a healthy diet for school age children. The breakfast programme is designed to assist in improving the learning process for students by improving nutrition. Our breakfast brands which include LASCO Oats Porridge Mix, LASCO Cornflakes, LASCO Vienna Sausage and LASCO Mackerel among others are very nutritious and tasty. We hope parents continue the healthy diet at home to ensure children receive the best opportunities to learn."
"We thank you Jamaica for your tremendous support, which continues to drive our growth and ability to give back," said Miss Thompson.
LASCO Manufacturing Limited celebrates its 20th anniversary and has distinguished itself in its dedication to the development of Jamaica and the region, through educational and social programmes such as TVJ's Schools' Challenge Quiz.