Thousands of Jamaicans will receive much needed medical attention starting today from a Unites States based Medical Mission team. The visit runs until

Wednesday, June 11

this year and will attend to patients in communities in Kingston, St. Andrew, St Ann and St Mary.
Since the team's first visit in 2001, over 65,000 Jamaicans have benefited from the operation. With the assistance of LASCO and other corporate entities, the group of over 120 medical practitioners will set up clinics in the three parishes.
Speaking at a press briefing on Tuesday, June 3, Hon. Lascelles Chin, Executive Chairman of LASCO Affiliated Companies explained LASCO's commitment to the programme and called on corporate Jamaica and the government for greater support of the programme. "I have been inspired by Don's selflessness and commitment to helping our fellow Jamaicans. His work demonstrates the everyday family values, which we at LASCO hold dear to our hearts. This is why LASCO, along with our strategic partner, MoneyGram, has committed significant resources towards facilitating Medical Mission," he said.
"I challenge corporate Jamaica to step up to the plate. We have a greater obligation to make an impact on the welfare of our consumers and customers. I challenge the government to manage their limited resources to support the mission for the benefit of the people of Jamaica," he continued.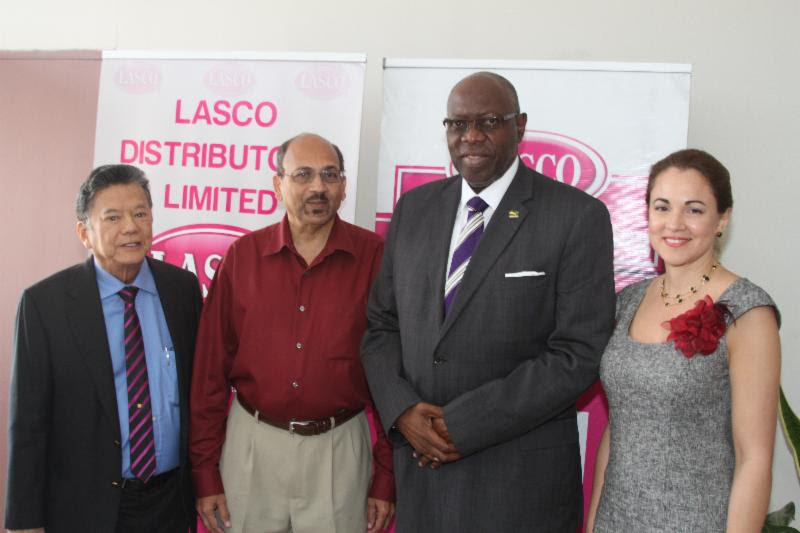 Hon. Lascelles Chin, Executive Chairman of the LASCO Affiliated Companies, Don Daley, co-coordinator of the Jamaica Medical Mission, Hon. Dr. Fenton Ferguson, Minister of Health and Dr. Eileen Chin, Managing Director of LASCO Manufacturing Limited, at a briefing for the Jamaica Medical Mission on
Tuesday, June 3
at the LASCO offices in White Marl, St. Catherine.
From

June 5 to 11

, the team of medical practitioners from the United States will offer free medical care to thousands of persons in Kingston, St. Andrew, St. Ann and St. Mary.
LASCO has committed to providing much needed assistance including logistical support and supplies from its pharmaceuticals division.
"We are humbled to have the opportunity to serve the people of Jamaica. We try to provide the best care for those who need it most. We offer our appreciation to those who help us make this possible" said Don Daly, Director of Jamaica Medical Mission, President of
President of CRI Communications Inc. and The Caribbean Upliftment Programme
.
Residents in the communities serviced by the mission will receive diagnosis and treatment for respiratory illnesses, hypertension, diabetes, vision impairments, skin conditions, allergies and other ailments. In addition to free screenings, members of the community will also have prescriptions filled by pharmacists and receive reading glasses, wheelchairs and other medical equipment as needed.
The team of medical doctors, dentists, optometrists, physical therapists, occupational therapists, pharmacists, public health professionals, as well as students in the mentioned disciplines will begin arriving in the island on Wednesday, June 4.